Yukina Utsumi
(内海(うつみ)ゆきな) is
Hikage Miyakawa
's classmate. She debuts in Episode 4 of
Miyakawa-ke no Kufuku
. She is voiced by Madoka Sowa.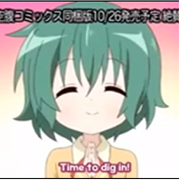 Appearence and Personality
Edit
Yukina has dark, mint-green, short hair and has golden eyes. She is called "yukkī" by Hikage and "ūnya"(うーにゃ) by Erika, and is shy. Daisuke is her childhood friend. She keeps some dogs as pets.
Ad blocker interference detected!
Wikia is a free-to-use site that makes money from advertising. We have a modified experience for viewers using ad blockers

Wikia is not accessible if you've made further modifications. Remove the custom ad blocker rule(s) and the page will load as expected.