Let's Go to the Festival is the twelfth episode of the Lucky Star anime.
Plot Summary
Edit
Main Story
Edit
Konata
,
Kagami
, and Tsukasa go to Comiket 71, at the end of 2006. While Kagami can bear the massive event, Tsukasa can't take too much, being a first-timer, and is eventually unable to get what Konata asked her to pick up. Meanwhile, Kagami finished getting everything Konata needed, but was sidetracked by a yaoi manga. It appears that
Akira Kogami
appears, as declared in the previous episode's
Lucky Channel
. However, it turns out to be just a cardboard cut-out of her with a message stating that Akira cannot attend because of sudden illness. After the morning trip around Comiket, Konata meets Tsukasa and Kagami at a
New Year
festival and receives very bad luck in a lottery drawing. At home, Konata goes out of her way to be nice to her
dad
in order to receive her
otoshidama
. She logs in to her game to wish others a happy new year only to once again encounter her
teacher
online.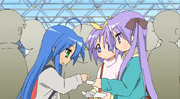 Lucky Channel
Edit
Minoru is the one doing the intro. Akira is still present, but she is wearing a mask over her mouth. Minoru explains that Akira suddenly fell ill and therefore could not appear in episode twelve of Lucky Star.
Ad blocker interference detected!
Wikia is a free-to-use site that makes money from advertising. We have a modified experience for viewers using ad blockers

Wikia is not accessible if you've made further modifications. Remove the custom ad blocker rule(s) and the page will load as expected.